The hair extensions industry has positively altered both beauty and fashion. The wide range of types, colors, and styles of extensions now available ensures you'll find the ideal match. Tape extensions are one of the various kind of hair extensions that are currently offered, and many ladies adore them. When compared to other sorts, this specific type of hair extension offers a clear advantage. Here are 5 reasons to choose invisible tape hair extension immediately if you're new to hair extensions and aren't sure if they are the correct choice for you.
Invisible tape vs normal tape
Do these hair systems differ in any way from one another? It is simple to attach invisible tape in your natural locks, which is a form of tape-in extension. Both of these tape-ins are intended to change the wearer's appearance by providing them with gorgeous tresses.
Consider traditional tape-in hair extensions. Due to how simple they are to wear, it is still a product that most women like. But if you attach it incorrectly, the tape that is on top of this hair will be visible. Additionally, the extensions may slide onto your natural hair when your new hair or hair grows in. As a result, you must regularly remove it or reapply it. Remove the tape carefully to avoid damaging your own hair. However, because there is no glossy tape across the top, invisible tapes appear more natural than conventional tape extensions.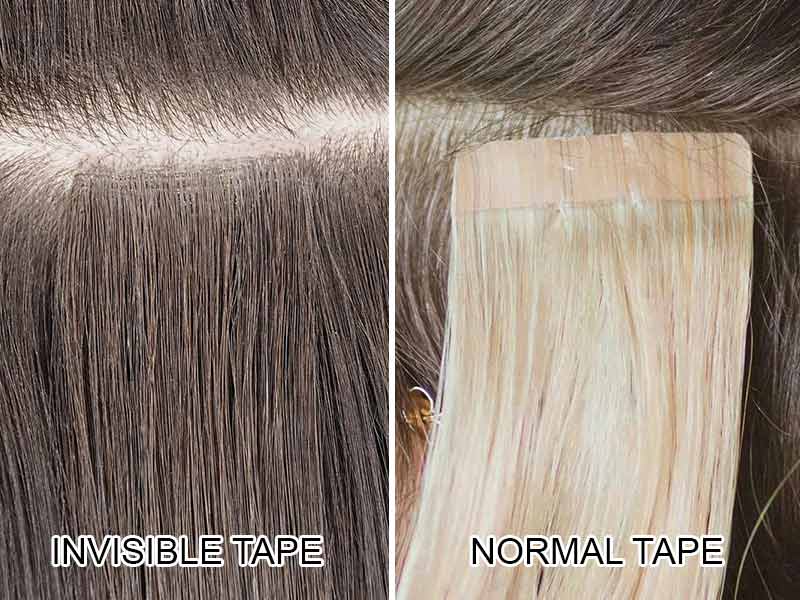 Why we should choose invisible tape hair extensions
1. Natural Look And Feel
Real human hair is used in the careful construction of tape-in hair extensions so that they feel and appear natural. To guarantee that they blend in flawlessly with your natural hair, high-end hair extensions go through a number of extremely rigorous steps, including finding the optimum color match. As with your own hair, you can style your extensions.
2. Safe and non-damaging
The lightness of invisible tape hair extensions is one of their most frequently mentioned advantages. This implies that even those with very fine hair can wear them. The extensions can be worn for up to 8 weeks before being removed with an equally destructive gel-based remover. Our tape extensions are lightweight and suitable for all hair types, even ultra-fine hair, weighing only 2.5 grams per tape. It is recommended to wear tape extensions for 6 to 8 weeks before removing them with our gel-based remover for a non-damaging, non-sticky removal.
Read more: Top 10 gorgeous hairstyles with 20 inches hair
3. Quick And Easy Fittings
It won't take your stylist more than an hour to apply a full head of hair extensions. Application is hassle-free, quick, and easy. Simply show up to your session with straight, clean hair; avoid using conditioner on your roots.
4. Cost Effective & re-usable
Since tape extensions can be placed in 15 to 60 minutes, they are significantly less expensive to apply than other types of extensions, which can take up to 4 hours. As a result, the customer benefits from the cost savings. If the client doesn't change the color of their hair, tape extensions can be used repeatedly. Your client will receive the best value and duration from the extensions if you confirm that they have a steady color that they like.
You can use your tape hair extensions once more if you decide against changing the color of your hair. The extensions will have somewhat shifted downward after 6 to 8 weeks as a result of hair growth. If you wish to keep utilizing your extensions, your hairdresser will need to relocate them up and reapply them. In fact, hair extensions are an investment.
5. Easy To Maintain
Once you've put your tape hair extensions, taking care of them at home is fairly simple. You'll need to handle your hair more gently when washing, drying, and styling it. In addition, you will need to choose your hair products more carefully, but aside from that, maintaining extensions is simple.