The discreet and delicately applied personalized permanent hair extension technique is a favorite of celebrities. In our blog post today, we'll define I-Tip extensions. Discover what they are, how to use them, how long they last, as well as their benefits and drawbacks, by reading on.
1.What are I-Tip extensions?
I-tip hair extensions are little bundles of hair, or "strands," with a pointed tip, as their name implies. A bead that connects the I-tip to your natural hair is used to attach each hair strand to it. Due to their small size and flexibility, these beads are simple to crimp in order to tightly fasten the I-tip to your natural hair.
2. Other Names For I-Tip Extensions?
Although Stick Tip or I-Tip are the proper terms for this type of extension, you may also hear the following used to describe them:
Stick Tip Hair Extensions
Stick Hair Extensions
Micro Ring Hair Extensions
3.How Many I-Tip Extensions Do I Need?
Each I-tip strand is about one gram of hair and each pack of hair contains 20 strands, so about 20 grams of hair. If you're looking to add length and volume to your hair, you will probably need around 160 strands of hair. If you're just concerned about volume, you can get away with as little as a single pack of hair.
Those interested in adding mermaid lengths will have rows and rows of extensions beaded to their natural hair. For those interested in volume only, there may only be one row, or strategically placed strands.
4.Can you reuse I-Tip hair extensions?
Your I-Tip hair extensions can undoubtedly be reused; with the right upkeep and care, they last for 9 to 12 months. They'll be a terrific investment if you only keep them in good shape so you can have them re-fitted.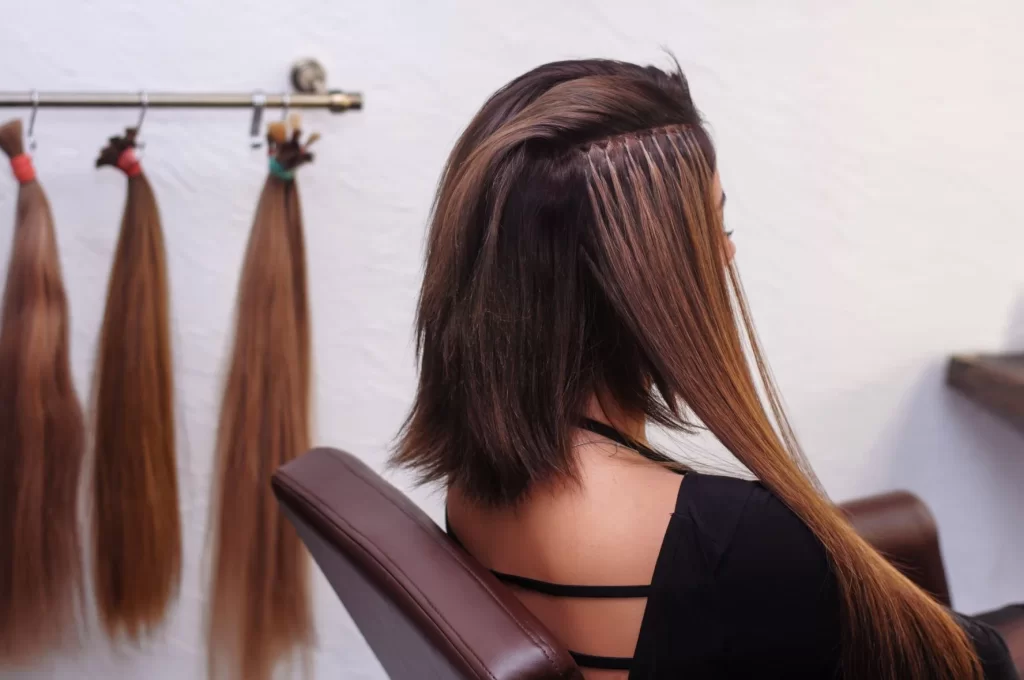 Natural hair is not damaged by them. The fear that extensions would harm their natural hair is one of the main reasons why many women shy away from them. However, if done correctly, using i-tips hair extensions won't harm your lock. This is so that no chemicals or heated equipment are needed when using the extension.
6.How Long Do I-Tip Extensions Last?
I-tip hair extensions, like the majority of high-quality hair extensions, need to be removed and reapplied every three months. Natural hair grows, thus if extensions are left in without being touched up, the hair may mat because the extensions will have spread too far from the root.
7.Are I-Tip Extensions Expensive?
Because of their labor-intensive installation process, I-tip hair extensions are one of the more expensive extension techniques. However, depending on the style you want to achieve and how much hair you buy, the cost can vary greatly. To get the most accurate quotation, schedule a free appointment with MacSara to talk through your hair needs and objectives.
8.Why Choose I-Tip Hair Extensions?
The removing process is extremely straightforward. It simply takes a short while. All you have to do is find the first bead and press on it with pliers. The I-tip hair extension will simply slide down after the bead opens.
I-tip extensions are the best option for anyone with thinner hair because they are incredibly light and won't put any strain on your natural hair. This technique is suitable for girls who worry that wearing hair extensions would damage their hair. I-tip hair extensions improve overall.
3. Hair Movement Naturally
It will be more obvious that these strands are artificial when hair extensions are made of big wefts because the hair won't flow naturally. I-tip hair extensions, on the other hand, are stranded by twisting, making the movements more fluid and ensuring that everything is flawless.
You can design any distinctive hairdo you want with I-tip and express your uniqueness. We all have different hair kinds and textures, thus I-tip hair extensions are designed to exactly match our natural hair to the extensions. Stick extensions are sold as individual strands, so you can mix various hues to create cool highlights.
9.I-Tip Extensions have any disadvantage?
1. You Need Tools For Installation
Without beads and pliers, it is impossible to use I-tip hair extensions. However, these instruments are very affordable and can easily obtained from a store or salon. Because the ends of hair extensions could become damaged, you must understand how to utilize these instruments before placing them.
2 – Installation Might Be Complicated
Although women may apply these hair extensions alone, a total novice may find the procedure challenging. The beads and hair strands might easily confound a novice. Learn how to section your hair effectively, how many hair strands to insert, how to get the hair through the beads, and how to seal the beads.
3. Brushing And Washing Process Is Quite Difficult
when I-Tip extensions are used. The washing and brushing procedure could appear to be very difficult. Be cautious and allow the hair extensions extra time to preserve them. You shouldn't brush i-tip hair extensions while standing close to the beads. Brushing should begin at the ends. These extensions should be cleaned by gently rubbing them. Avoid pulling or rubbing the hair extensions.
10. Conclusion
We believe you now understand the benefits and drawbacks of I-Tip extensions. Compared to other forms of hair extensions, using these ones has more benefits. We sincerely hope you enjoyed reading this post. If so, please spread the word to your friends and follow us on social media to be updated on the newest fashions, tricks, and more or via website to place order!